Power Vac Guelph is a Air Duct Cleaning Specialist with 53 years of experience.
Power Vac has been providing air duct cleaning services since 1966
We Specialize in Residential, Commercial and Industrial duct cleaning. We also provide exhaust cleaning, dryer duct cleaning and insulation removal. We provide Duct cleaning services for Guelph, Rockwood, Acton, Elora, Erin, Drayton and Arthur
Experience the Power Vac Difference
Power Vac's large fleet of 12 Vacuum Air Duct Cleaning trucks ensures service when you need it. Our schedule is flexible so yours does not have to be. Power Vac Guelph is a unique team of skilled professionals who provide the best one on one service . We are a Nadca Certified Duct Cleaning Contractor. We know with our continuous investment into new Duct Cleaning technologies, our focus on continuous education through Nadca, our excellent safety record and our commitment to providing the best service , that we are a unique, committed team that you will not find anywhere. Power Vac is a Nadca Certified member since 1999. We have 3 certified ASCS's on staff and 2 VSMRs on staff . Power Vac is a member of the Better Business Bureau and has been an active member since 1989 . Our 50 years of experience has given us the competitive advantage. Most of our work comes
to us through word of mouth and repeat business. Our goal is quite simple, we would love to have your business now but we want to earn it again in the future. Choosing a duct cleaning company is an important decision. Power Vac has been serving Canadians since 1966. If you are looking for a qualified, Nadca Certified contractor put our 47 years of experience to work for you!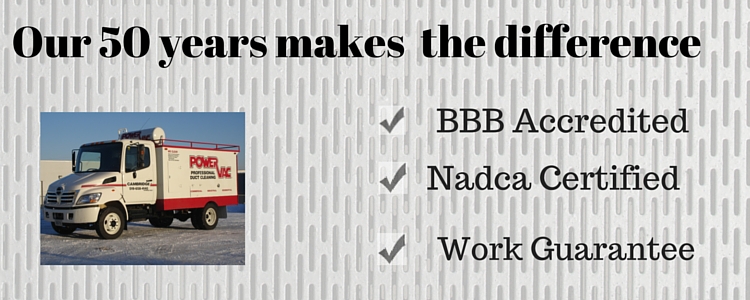 Give us a call at 519-837-3611 or fill our the online quote form below for a no obligation quote.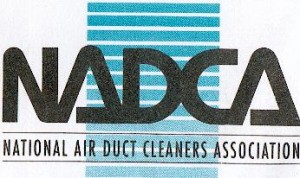 Power Vac
Average rating:
45 reviews
Sep 18, 2018
Great Customer Service!
Super friendly staff! Easy to schedule. The quote was accurate. Service guys even checked to make sure my cats wouldn't run outside while the doors were opened. Quick, clean, professional. Highly recommend!
Thank You Mickie for the review. Our team appreciates it . Please call us again in 3 years
Mar 1, 2018
Really good experience and very happy with the work.
Our ducts were quite dirty and Power Vac did a great job in cleaning them all out.
We would definitely recommend them to anyone and will be using their services again. Thanks Power Vac!
Thank You Kerri for the review. Please call us again in 3 years
Feb 10, 2018
You convinced a skeptic
I did not believe duct cleaning was a necessary expense to do. But my furnace was not keeping up at -20. The furnace tune up technician said I needed the ducts cleaned. My research lead me to Power Vac. They did a fantastic job. Fast, efficient, polite, explained everything, cleaned up as they went along, and reasonably priced.
I would recommend them to everyone.
Thanks Brian for reviewing your recent service call with us. We are glad we made you into a believer. Our service offers many benefits from improved indoor air quality to improved air flow
Jan 26, 2018
Great Service
The whole team from Power Vac is excellent. Booking an appointment was quick and easy. I needed to change my appointment time a few days in advance and they were very accommodating. The pair that conducted the cleaning were very polite and professional. They explained what would be going on and what sounds I could expect. I would highly recommend Power Vac to anyone in need of duct cleaning.
Thank You Matt the for review and for the opportunity to look after your duct cleaning needs. Please call us again in 3 to 5 years
Dec 17, 2017
Excellent Investment
We moved into our house recently and discovered the ducts needed immediate attention as it appeared they had not been cleaned in years. Carl did a great job as he was very friendly and professional by explaining the process step by step. Power Vac was recommended to us by a friend, and we'll be sure to recommend Power Vac to others as well.
Thank You Steve for the review and for the opportunity to be of service
Dec 13, 2017
Pleased with work performed
We just had a major Reno completed and the contractor recommended Power Vac as he also had used them on his home. Harmon, the service technician showed up and explained what he was going to be doing and went about his work. He was friendly and answered my questions as he worked quickly and efficiently. Very impressed with the way he did his job and would recommend Power Vac to my friends and neighbours.
Thank you Ross for the review. Our team would be grateful if you could pass our name on.
Dec 12, 2017
excellent work
Kyle came right on time, he told me what he would be doing and set up quickly and efficiently. I have never had this done since the furnace was installed in 2011 and was apprehensive about how dirty it would be, especially with dogs and cats. Kyle did mention it was very dirty, so money well spent. I was very happy with the card as well, that is a nice touch. I like your new motto, we do not call you, you call us. That says it all. Good job and thanks for being so professional.
Thanks Chris for reviewing Kyle's re cent service call. We appreciate the opportunity to be of service. Call us in 3 to 5 years because as you know will will not call you!!!!
Nov 26, 2017
The service technician was very friendly. He called me to let me know he was going to be late due to heavy traffic.
The process was explained well to me and I appreciated his polite and courteous manner. The person who answered the phone when I called to book my appointment was also very friendly and accommodating.
Overall it was a good experience.
Thank You for the review Pauline. We work as a team to deliver top notch service
Oct 26, 2017
Good job
We are very happy for the job done by your team.
They came on time . They were very professional and explained me every stage of their work.
I already recommended your company to a friend...
Rasim
Thank You Rasim for the review and for the opportunity to be of service
Aug 8, 2016
personable and courteous
Dave was the most personable service tech I have ever dealt with , he was fast with his work and made sure to not make a mess and was courteous of the noise level. he took the time out to make conversation with me about what he was doing and even about his personal life. he also showed concern for other aspects of the house that he brought to my attention which I appreciated and it shows that he really does care about his work and is looking out for the well being of the house and the people in it.



I would definitely recommend power vac, especially dave!



thanks so much
Page 1 of 5:
«
‹
1
2
3
4
5
›
»