Power Vac Guelph is an Air Duct Cleaning Specialist with 57 years of experience.
Power Vac has been providing air duct cleaning services since 1966
At Power Vac Guelph, we offer a comprehensive range of services specializing in residential, commercial, and industrial duct cleaning. In addition to duct cleaning, we also provide exhaust cleaning, dryer duct cleaning, and insulation removal services. Our expert team caters to the needs of clients in Guelph, Rockwood, Acton, Elora, Erin, Drayton, and Arthur.
Experience the Power Vac Difference
Power Vac's extensive fleet of 50 vacuum air duct cleaning trucks ensures prompt service tailored to your needs. We understand the value of flexibility, so we adapt our schedule to accommodate yours. Power Vac Guelph is a dedicated team of highly skilled professionals who prioritize personalized service. As a NADCA Certified Duct Cleaning Contractor, we uphold the highest industry standards. Our continuous investment in cutting-edge duct cleaning technologies, ongoing education through NADCA, outstanding safety record, and unwavering commitment to delivering exceptional service make us truly unique. Since 1999, Power Vac has been a proud member of NADCA, with three certified ASCSs and two VSMRs on our staff. Additionally, we are members of the Better Business Bureau since 1989. With 50 years of experience, we possess a competitive advantage that has earned us the trust and loyalty of our customers, who often refer us through word of mouth and return for our services. Our goal is simple: we want to earn your business now and in the future. Choosing the right duct cleaning company is a crucial decision, and Power Vac has been proudly serving Canadians since 1966. If you're seeking a qualified, NADCA Certified contractor, let our 57 years of experience work for you!
Need A Quote?
If you require a quote, simply give us a call, and within two minutes, we will provide you with a duct cleaning quote tailored to your home. It's a straightforward process! Our amiable staff will ask you a few questions about your house. Having successfully completed numerous projects in Hamilton, Dundas, Ancaster, Stoney Creek, and Grimsby, we are confident that our prices will pleasantly surprise you. Remember, we encourage you to reach out to us as we do not initiate calls.
At our company, we have an unwavering commitment to our 5-Step IronClad Commitment®, which eliminates any uncertainty when choosing a reliable air duct cleaning contractor. We prioritize transparency in duct cleaning, ensuring there are no hidden costs or deceptive upsells. We firmly believe that by taking care of our customers, fulfilling our promises, and treating them with utmost respect and integrity, we can establish lifelong relationships. This forms the core of our business model and is the reason behind our fleet of 27 duct cleaning vacuum trucks operating in Guelph and Wellington County.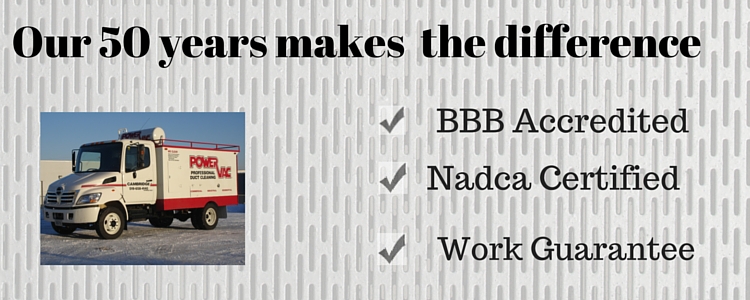 Give us a call at 519-837-3611 or fill our the online quote form below for a no obligation quote.