Canada's Only National Duct Cleaning Company
Established in 1966, Power Vac has flourished to become Canada's only national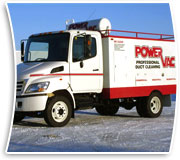 duct cleaning company with our network of offices from coast-to-coast.
In 1996, Power Vac reorganized into a Dealership Association with offices across Canada. All Power Vac offices are members of the National Air Duct Cleaners Association, a trade association of more than 900 air duct cleaners.
In 2006, Power Vac celebrated its 40th year in business. Power Vac provides comprehensive services from well established, local offices.
While you're here, why not select a topic from the menu, meet one of our most experienced servicemen, or get a free online quotation from the office nearest you. Online discounts may apply.
Each office of Power Vac is independently owned and operated. Accordingly, each office can provide any or all of the services detailed on the following web pages. Please refer to Links and Resources for each office's individual website.
Announcements:
Air Duct Cleaning Scammers Exposed by Dateline NBC
January 31, 2011
The National Air Duct Cleaners Association (NADCA) participated in an undercover investigation by Chris Hansen and Dateline NBC to expose companies that use bait and switch tactics to take advantage of consumers. Read the full story »
Power Vac Video Presentation
Click on the screen below to play the Power Vac video.
Also… HVAC Cleaning video
Power Vac
Average rating:
0 reviews