TV show CBC Marketplace partners with Power Vac Toronto to reveal
how Canadians are getting ripped off by offshore telemarketers.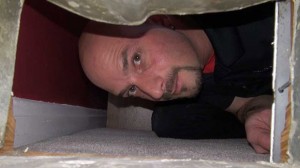 CBC Marketplace just finished a 2 part series showing how offshore Call centers are not delivering service that Canadians are expecting to get. Gino Merenda of Power Vac Toronto (GTA) took part in the Marketplace Investigation, which used hidden cameras to monitor the techniques and the overall effectiveness of the discount duct cleaners.
Gino Merenda and The National Air Duct Cleaning Association (NADCA) also warned that aside from just doing a poor job, the dodgier duct cleaners sometimes pull another scam: upselling.
The EPA and National Air Duct Cleaners Association (Nadca) both conclude that cleaning the Ventilation system can increase energy efficiency. Both also agree that if the homeowners needs to have the work done, that they hire a qualified, experienced contractor for the whole story follow the link
http://www.cbc.ca/marketplace/episodes/2012-2013/when-the-repairman-knocks-air-ducts
Power Vac
Average rating:
0 reviews