For over 50 years, Power Vac Hamilton has been a trusted partner in specialized commercial cleaning services – for a multitude of clients with a range of expertise, including HVAC systems and commercial dryer ducts. As one of Hamilton's recognized leaders, Power Vac Hamilton delivers unparalleled knowledge and proficiency, providing clients with thorough service that ensures a clean and healthy environment for commercial properties.
All of Power Vac's dedicated technicians are certified and trained in WHMIS, fall arrest, and confined workspace. Our safety training is designed to help our HVAC cleaning technicians develop the high quality of experience and skills for which NADCA members are known. We are members of NADCA (National Air Duct Cleaners Association). As our industry evolves, we realize the importance of keeping up with new training for our team to deliver better products and services. Our commitment to training has separated us from our competitors.
Power Vac is available for emergency work, and we can accommodate any emergency situation. With a fleet of vehicles and fully trained staff, we can quickly respond to your emergency situations. We specialize in Commercial, Industrial, Institutional, Government, Hospitals, Hotels, Schools, and more. Call today at 905-318-0622.
We service the areas of Hamilton, Dundas, Stoney Creek, Burlington, St. Catharines, Grimsby, and Niagara Falls.
Commercial Duct Cleaning services
* reduces energy costs *improves IAQ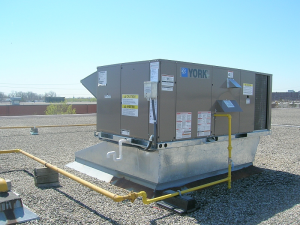 Commercial Heating, Ventilation, and Air Conditioning (HVAC) systems are constantly working to provide comfort and circulate air. This daily, continuous cycle of heating and cooling causes the accumulation of dust particles, fungi, bacteria, mold, allergens, and other contaminants. Cleaning your duct system removes these contaminants and prevents them from being circulated throughout the interior of your building.
The systematic cleaning of your HVAC system improves the air quality in your building and provides a safe and healthy work environment for you and your employees by reducing the circulation of bacteria and allergens – while also maximizing the productivity of your system and saving energy. A clean HVAC system requires less energy to run, making it more cost-efficient (a clean system can reduce the energy consumption of a compressor by 30%). NADCA recommends an inspection and cleaning of commercial ductwork every 3-5 years for proper air distribution and peak performance of your HVAC systems.
We are a Proud Nadca Member since 2004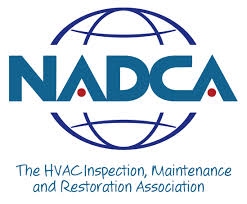 NADCA: The HVAC Inspection, Maintenance, and Restoration Association, otherwise known as the National Air Duct Cleaners Association (NADCA), was formed in 1989 as a non-profit association of companies engaged in the cleaning of HVAC systems. Its mission was to promote source removal as the only acceptable method of cleaning and to establish industry standards for the association.
NADCA members work in accordance with the Association's ACR Standard, which provides guidance on the proper and safe techniques required during HVAC Inspection, Maintenance, and Restoration procedures.
Because we are NADCA Certified, we follow the NADCA Specifications for Cleaning of Commercial Heating, Ventilating & Air Conditioning Systems.
We hold all current NADCA certifications including ASCS, CVI and VSMR
ASCS (Air System Cleaning Specialist)
certifies us to clean all residential, commercial and industrial types of air handlers and ductwork.
CVI (Certified Ventilation Inspector)
certifies us in the area of ventilation and ductwork hygiene.
VSMR (Ventilation System Mold Remediator)
certifies us to clean mold contaminated systems.
Each certification requires classroom time as well as rigorous testing. We keep current with continuous education credits. With our NADCA certifications, Power Vac Hamilton has qualified and cleaned numerous duct cleaning systems for school districts, hospitals, retirement homes, as well as multiple industrial applications