Power Vac is an experienced Stratford Air Duct Cleaning Company with 55 years experience
Power Vac Stratford Specializes in Residential, Commercial and Industrial Duct Cleaning Services. We also provide Dryer Duct Cleaning, Bathroom and exhaust cleaning and attic insulation removal
We service Stratford, Mitchell, Listowel, Milverton ,St. Mary's and all of Perth County.
Power Vac is a unique team of skilled professional Duct Cleaners. We provide the best one to one service.
Power Vac is a Nadca Certified Contractor since 1999. Power Vac Duct Cleaning has 3 ACSS's and 2 VSRM's on staff. We are proud members Better Business Bureau Since 1989. Our good rating will show that Power Vac works hard to make our customers completely satisfied.
We know with our continuous investment into new Duct Cleaning technologies, our focus on continuous education through Nadca , our excellent safety record and our commitment to providing the best service , that we are a unique team that you will not find anywhere
If you are looking for a qualified, Nadca Certified Duct Cleaning Contractor, then let our experience and service make a difference.
For a quote please complete the online form or call us at 519-273-2910
Clean air is a necessity, not a luxury
When it comes to life's essentials, it does not really get much more essential than clean air. We all know that clean air is a prerequisite for a healthy life and a healthy environment, so why should we expect – or demand – anything less from the air we breathe at work. Especially now that everyone is staying indoors we want to remind you that keeping the indoor air that you are breathing clean is vital to your overall health.
Put our 53 years of experience to work for you!!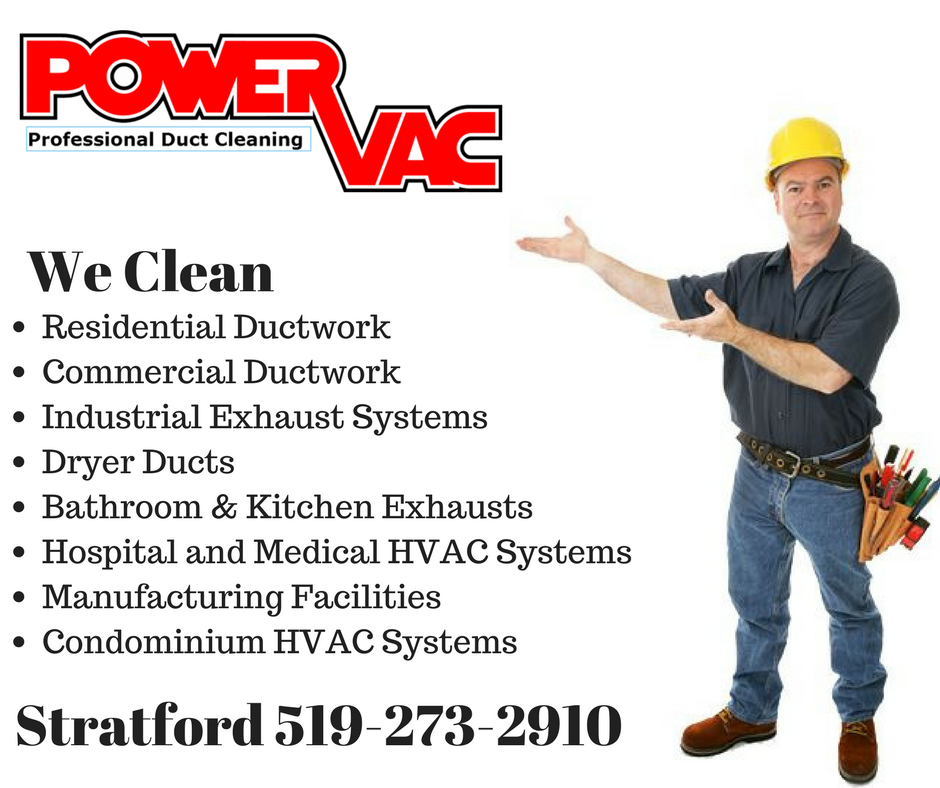 Customer Reviews
Power Vac
Average rating:
11 reviews
Aug 1, 2018
The Power Vac technicians who cleaned our ducts arrived early and got set up right away. Even though access to the furnace/ducts via a basement window was not available they quickly found a solution so they could proceed. I walked through the house with one of them and pointed out where all of the vents were located. When they were finished they cleaned up so well that you'd never know they were there. Great service!
Thank You Jane for letting us know that you were pleased with the recent duct cleaning call. Call us again in 3 years
Jul 26, 2018
I have used PowerVac on two occasions (Shawn and Dave) and found the organization and the service reps to be very courteous, enthusiastic and knowledgeable. They did a GREAT job and the difference in my a/c performance was noticeable immediately. I would highly recommend them.
Thank you Susan for the review and for your continued support of our services. Repeat business and work of mouth referrals is the foundation of our business model
Feb 13, 2015
Service
I was very impressed with the person who cleaned my ducts today. He corrected many of the issues that occurred in our circulation system due to shoddy workmanship. I notice already that the furnace is not going on as much. He was also personable and helpful in showing where issues occurred. I am sure I will not continue to have the breathing issues that have caused me so many problems. Thanks for a good job done
Thanks Mary for the review. Chris is a very personable service tech and very attentive to details. We are greatful for your business and we look forward to returning in 3 to 5 years
Dec 11, 2013
A great job! Eric was a pleasure to deal with...
Brent, Thank you for reviewing our work. Thank you for choosing Power Vac over the many other service providers. We are grateful for your business and we lookforward to returning again in 3 to 5 years.
Nov 22, 2013
Randy was very courteous and efficient. Did a great job. Just one issue - When he pulled the venting apart apparently 3 nails and a bit of other debris dropped on my garage floor that we both didn't see at that time. I was able to pick up everything before my car was pulled in. I will definitely recommend your company to others for your workmanship.
Thank You Al for leaving us feedback on our recent service call. Thanks for letting us know about the nails. We are glad that they were noticed before any damage occured
Nov 5, 2013
Great service, Mark was excellent!

Glad to have the peace of mind that the ductwork is all clean as we are new owners of this home.
Thaks again Dean for the review- Darwyn
Oct 9, 2013
we were very pleased with the prompt and courteous service.
Thanks Ellen for your feedback. We are grateful that you gave us the opportunity when there is so many other service providers. We value your business and we look forward to returning in 3 to 5 years- Darwyn
Sep 25, 2013
Thank you for the great service. Eric was a fantastic technician. He was kind,knowledgeable and very professional. I will recommend your company to my family and friends.
Thanks for the review Lisa. Eric is indeed a great service technician and we are glad he is part of our team-Darwyn
Sep 10, 2013
We're so glad we had the ducts cleaned. The air in the house seems better already. Randy was very knowledgeable. Both the guys were friendly & efficient & they left everything tidy.
Thanks Andrea and Frank for the great feedback. We appreciate your business and look forward to returning in 3 to 5 years. We would be grateful if you could pass our name on to others- Darwyn
May 25, 2013
Mwangi arrived at my home early for the appointment and got right to work. He was professional, polite, humourous, and did a fantastic job.

I was shocked at how much stuff was removed from the vents! 🙂

good job!

highly recommend.
Thank you for taking the time to give us a nice review. We appreciate your business and we look forward to returning in 3 to 5 years. We will send you a post card to remind you when you are due