We are are Toronto's Condominium Duct Cleaning Specialists
We are Toronto's Condominium duct cleaning experts. Power Vac has cleaned more condominium dryer ducts, bathroom / kitchen exhausts and hallway shafts than any company in the Toronto GTA area. We have 50 years of providing exceptional service
experience under our belts. We strive to ensure that our cleaning process is quick and efficient while providing very little disruption to the condominium occupants. We are the duct cleaning experts that condominium corporations and property managers call when they have a problem and need a solution.
Condominium Dryer Duct Cleaning
Power Vac Toronto is the expert in cleaning dryer ducts. We have patented technology that allows us to bring portable dryer duct cleaning vacuums into the individual condo units . We eliminate the fire hazards associated with plugged dryer vents The advantage of cleaning dryer ductwork include
A regular dryer vent cleaning can improve the efficiency of your dryer and reduce the risk of a fire in your home
A blocked vent leads to increased energy consumption by your dryer. Having your dryer vent cleaned can not only help you prevent a house fire, but it can help you save money through reduced energy bills
The dryer will last longer
Your cloths will dry quicker
Often dryer fires start when a dryer over heats and can not exhaust the air properly. Dryer fire starts from a simple spark
Hallway shaft cleaning
Maintaining proper hallway ventilation systems is a key component of IAQ (Indoor Air Quality). Properly maintained systems are essential in helping remove odors from the condo and apartment hallways , which in the end helps improve IAQ. Hallway airmake up systems need to be kept free of obstructions enabling these systems to circulate fresh air thereby eliminating the stale and musty odors tennants and shareholders often complain about. Power Vac has the right technology and the right service technicians to solve your fresh air make up system problems
Bathroom and Kitchen exhaust cleaning
Condo Bathroom & Kitchen exhaust fans are an important part the units ventilation system. They are designed to eliminate odors, improve indoor air quality, and remove moisture and humidity that can cause structural damage or mildew and mold growth. Unless a bathroom is properly ventilated, the moisture from a shower has no place to exhaust and can penetrate into drywall, attic insulation and structural joists. If a mirror is steamed after a shower, or there is a build-up of condensation on bathroom or kitchen walls, it may be time to clean the exhaust system.
Furance and Duct Cleaning
Cleaning the ductwork for the heating/cooling system significantly improves the indoor air quality in your home. Power Vac is a Nadca certified duct cleaning contractor with almost 50 years of providing HVAC remediation for homes, condos and apartment buildings.
Power Vac takes great pride in our work – we take pains to make sure that after our job is finished, your home is left exactly how it was when we first arrived. Our equipment and specific manner make our visit to your home almost unnoticed – except of course for your better IAQ! Our technique fully ensures that your home feels healthier and happier.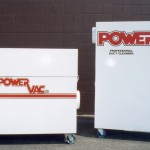 We use our patented technology called the PV-4000 for high rise duct cleaning. It works well for places not accessible by vacuum trucks.
This three component system contains a bag house, a power unit with HEPA filters capable of 99.97% efficient filtration of 0.3 micron particles, and a 200 psi portable compressor.
Power Vac has the right equipment, the experience, and the right service technicians to do the job right. We are Toronto's oldest duct cleaning contractor. We have helped more Canadians with IAQ problems then any other company in Canada. Let our 50 years of experience make a difference for you


Power Vac
Average rating:
0 reviews