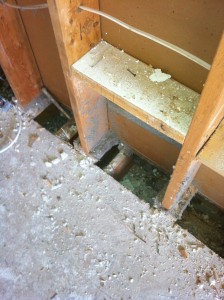 Should you clean your ductwork after a renovation
Should you invest your money in Air Duct Cleaning after completing your home renovation or home remodeling project? Customers frequently ask this question after a renovation project (bathroom remodel, kitchen remodel, finishing the basement ) or any other extensive remodel project where a lot of dust has been created. Power Vac always recommends it, because it can only help improve the home's air quality, especially after a large renovation project that can create a lot of construction dust. If you suffer from allergies, it should be strongly considered
If you are moving into a newly constructed house, and have doubts about the diligence of the construction crew, duct cleaning can be useful. Drywall dust, fiberglass pieces, and sawdust have no place in ducts. Duct cleaning will also catch the odd occurrence where lunch bags or soft drink cans have fallen or been swept into the  duct system. For similar reasons, duct cleaning may be advisable for older houses following large renovation projects.
It's always a good idea to have your ducts cleaned after a major renovation . Ripping down cabinets, tearing up old flooring, installing new electrical and drywall…it all creates a lot of nuisance dust and debris. Even when you cover the vents, bits and pieces of construction material can make their way into the ductwork.
Power Vac recommends that the homeowners inspect their air ducts to see if they look dirty. This is just a basic test, but if the air ducts in your home look dirty, you should call a reputable air duct cleaning company like Power Vac . Do your homework when deciding on a duct cleaning contractor. Make sure that that you check out the air duct cleaning company to ensure that they have the right equipment and have a solid reputation in the industry . Look for a NADCA Certified contractor. NADCA members work in accordance with the Association's ACR Standard, which provides guidance on the proper and safe techniques required during HVAC Inspection, Maintenance and Restoration procedures.
The Benefits of Duct Cleaning after renovations
The first major reason a homeowner should invest in a Professional Duct Cleaning service, is that it improves Indoor air quality the home, which is great for people  suffering from allergies and asthma.

The second major benefit of Air Duct Cleaning after a remodel project is that air duct cleaning removes, dust, chemicals and contaminants from the HVAC System.

The third major benefit of Air Duct Cleaning after a remodel project is the impact on energy savings for the home. When your HVAC is clean, the system does not have to work as hard to maintain a room's temperature, this requires less energy use, resulting in energy cost savings.
"According to the U.S. Department of Energy, 25 to 40 percent of the energy used for heating or cooling a home is wasted. When contaminants are in the heating and cooling system, it can shorten the life of your system by requiring it to work harder, even with using filters"
If you are in the pre planning stages of your renovation project, give us a call . We would be happy to provide you with an estimate that you can carry in your renovation budget. If you are finished your renovation and the dust levels are unmanageable we would be happy to schedule a service call. Remember when dust is a dirty word, you need Power Vac today!!!